At Cooks & Company, we pay close attention to the movers and shakers in the luxury kitchen and design industry. And we make it our mission to bring the best of the best into our clients' homes. That's why, when it comes to working with brands and suppliers, we partner with those who align with our vision and values and are raising the bar when developing products for everyday luxury. We'd like to introduce you to one of our favourite luxury kitchen appliance brands - Sub-Zero & Wolf.
Table of Contents
Bringing the Sub-Zero & Wolf brands to life
Owned by Sub-Zero Group, Inc., Wolf and Sub-Zero have been leading the pack in home refrigeration and cooking for over 70 years. From range cookers to refrigeration, their appliances are meticulously crafted and expertly engineered, bringing professional quality to your home.
Their story starts in 1926 when Westye F. Bakke and his family move to Wisconsin to start a new life. Bakke built his first freestanding freezer in his home, an invention that kick-started a series of pioneering creations and resulted in the Sub-Zero Freezer Company.
Between then and the noughties, the company rapidly developed. They introduce dual refrigeration and begin customising appliances to match kitchen décor and cabinetry. The new millennium marks an exciting new chapter for Sub-Zero, and the company acquires Wolf Gourmet, a leader in commercial cooking appliances since 1993. The rest, as they say, is history.
Large and small kitchen appliances
The Wolf product range is vast, from professional dual fuel ovens to small kitchen appliances, such as stainless steel kettles; you might be concerned that it's quantity over quality from this brand. But that couldn't be further from the truth. Wolf has been chosen by celebrity chefs such as Heston Blumenthal and Jamie Oliver because their products are exceptional.
And Sub-Zero? Sub-Zero fridges are designed with an antimicrobial air purification system used by no other than NASA! They really are refrigeration innovators. From wine coolers to integrated refrigeration, we can source a comprehensive selection to suit your specific style and needs. In fact, we have the largest showroom for Sub-Zero and Wolf Appliances outside of the London area!
Cooks & Company favourite Sub-Zero & Wolf products
Whether you're a keen chef or microwave maestro, there's a Wolf and Sub Zero product for everyone. Not only do they function outstandingly, but they also look sleek and stylish in any luxury kitchen. Here are a few of our favourite products.
Wolf Dual Fuel Range Cooker with Eight Burner
Uniting the best of both worlds, the Wolf dual fuel ranges combine the control and convenience of the electric oven with all the glory of gas cooking.
This Wolf Dual Fuel Range Cooker with eight burners is one of our favourite products because of the sheer amount of cooking options when using this professional standard oven. Its traditional range cooker style looks great in farmhouse or country cottage interiors.
The oven is equipped with Wolf's patented gas high-to-low temperature control. Its Dual VertiCross™ convection system also provides reliably even heat, reduces hot and cold spots, and enables consistent multi-rack cooking. The Gourmet Mode features nearly 50 pre-sets that automatically control the oven to ensure delicious results. These cooking modes were developed by Wolf chefs!
Built-In M Series Contemporary Black Glass Double Oven
This in-built Contemporary Black Glass Double Oven from Wolf is sleek and stylish and wouldn't look out of place in any kitchen with a modern aesthetic. The M Series Built In Double Oven takes the guesswork out of even the most difficult dishes.
Complete with Wolf's most advanced dual convection ever; it quickly saturates the oven cavity with consistent heat across all racks. The cooking modes are precise and intuitive, meaning that the meal you bring to the table is every bit as delicious as the meal you had in mind!
The M Series ovens boast Wolf's sleekest and most full featured ovens yet and they seamlessly integrate into any kitchen.
Sub-Zero Ultimate Professional Refrigerator Freezer With Glass Door
The launch of the Sub-Zero Professional Series caused quite a stir among design enthusiasts and with its unrivalled design, the series is more than worthy of Sub- Zero's motto 'Freshness above all else'. Plus, it still holds on to the iconic grill design that has become synonymous with Sub-Zero products.
Born of 100% steel, the Sub-Zero PRO4850 Refrigerator/Freezer is is a design statement and culinary hero in one. Its sculpted metal, dual refrigeration and advanced controls marry performance and style in a bold way for superior home refrigeration.
Taking it outdoors
Not only do Wolf and Sub-Zero create kitchen showstoppers, they also manufacture products ideal for outdoor kitchens.
Their BBQ grills and outdoor refrigerators are perfect for outdoor culinary creations, helping you to entertain family and friends in your garden.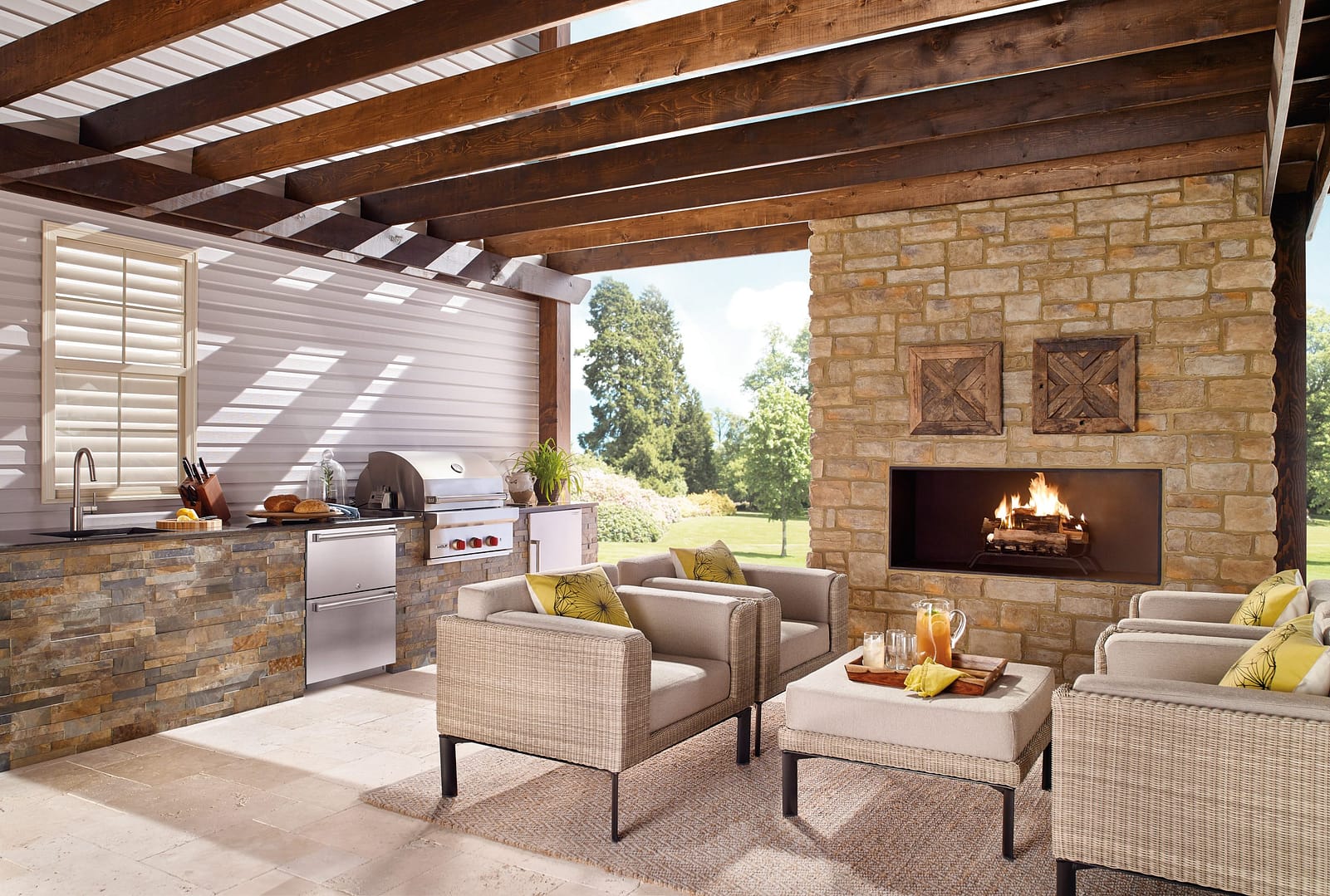 We've written about mastering the art of outdoor entertaining. It's a guide to stylish outdoor kitchens. If you want to find out more about taking the inside out then give it a read.
If kitchens are the heart of the home then the appliances are the lifeblood. If you're investing in a luxury kitchen this year, then you'll want to choose your appliances wisely. Visit our Newark on Trent showroom and we can help you to discover Wolf and Sub Zero for yourself. We guarantee you'll be blown away by the range and quality these two super brands have to offer.
.