Cooks & Company's design philosophy is rooted in timeless elegance, incorporating classic styles and contemporary trends to create a stylish and enduring range.
And when it comes to our luxury kitchen appliance suppliers, their philosophies align with ours.
Whether creating and installing a luxury kitchen or restyling a bedroom, the products we supply you with will always be of the highest quality, beautifully crafted and long- lasting.
A brand that encompasses all of this is Lacanche. And we're proud stockists. Let's introduce you to them.
A brand steeped in heritage and pride
The story of Lacanche begins in the 15th century. Phillip the Good, Duke of Burgundy, established a cast iron foundry in a small French village called…Lacanche.
As time went on, the foundry passed from owner to owner until the 1900s, when Ferdinand Coste and his family launched the first kitchen stove model.
The Lacanche Ironworks continued to produce cast iron stoves for stately homes all the way until 1981. By that point, it had been taken over by the Valeo Group, who then decided to close the foundry doors. But along came André Augagneur and his family, who returned the factory to its former glory, focusing on the Lacanche range.
Today, Lacanche range cookers are still built on the same site and sold across five
continents. As a family-owned business, the company honours its rich heritage and culturally significant past while celebrating its innate French heritage of innovation, quality, and respect for people and the environment in each handcrafted range.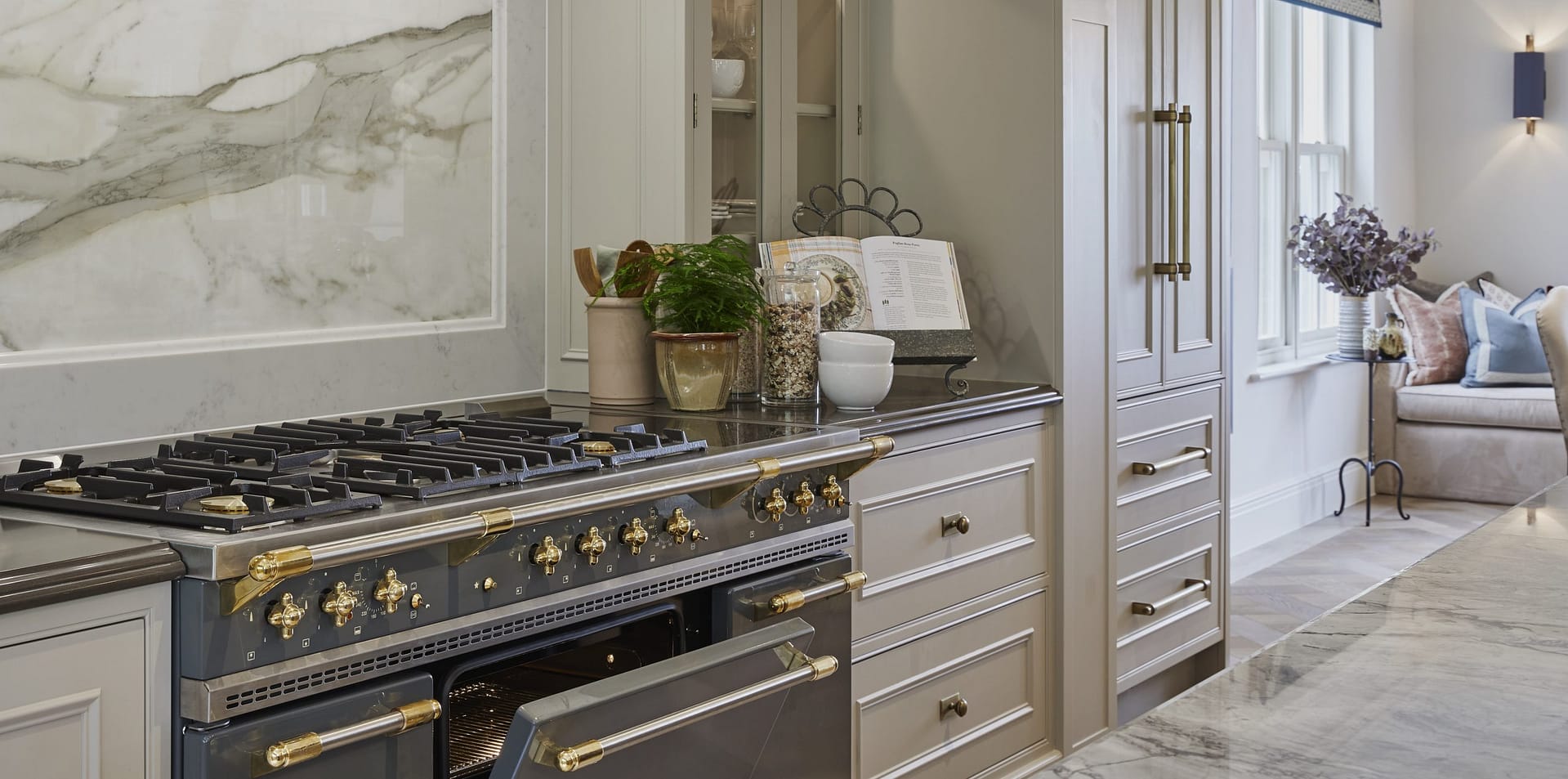 The term bespoke is a word we use a lot. But do you know what it means when it comes to luxury kitchens? We've written about this before.
Bespoke to us means giving our customers the freedom to design a kitchen that is truly unique and aligned with their individuality. When clients work with us, we sit with them to discuss their style, what practicalities they need for everyday living and their vision for the space.
Having a luxury kitchen appliance supplier like Lacanche, who offers a build-your-own oven option, allows us to continue offering our clients this bespoke level of service.
Using a Lacanche cooker builder, we can help you to select your style, size, colour, trim, hob options, oven style and fuel type. You can add hobs options such as chargrills, induction zones and gas burners for over one metre ranges.
And, to take it one step further, if you can't find an oven colour option that you like, Lacanche can make your range in a bespoke colour. All you have to do is provide a sample.
Cooks & Company favourite Lacanche features
There are so many exciting details about the Lacanche brand and the products they
make. Here are just a few of our favourite features.
Every handcrafted Lacanche range is available in two styles. Style 1: The traditional Classic Lacanche and style 2: The contemporary Lacanche Modern. Each is manufactured to exacting standards, by hand, in the village of Lacanche.
Matching the power and performance of your Lacanche oven. There's also a complete range of high-performance extractors which can be colour matched to your range oven.
Best of both worlds. Lacanche range ovens can come as dual fuel types (electric and gas) and are the most popular options with Lacanche clients.
Lacanche is solid and built to last. Their products offer years of service in a demanding cooking environment. They offer phenomenal, truly professional performance and extraordinary versatility.
They're created for all cooking abilities. They have a deliberate simplicity, making them easy to use and maintain.
The quality of the finish. Each oven panel is hand enamelled with three layers and then fired at 850ºC. The result is a beautiful deep intense colour that's easy to clean and will look just as good in twenty years as the day it was created.
Endorsed by professionals. Many respected chefs, cooks, cookery writers, and journalists own or use a Lacanche range cooker. These include Raymond Blanc, Simon Rogan, Jean-Christophe Novelli, Kevin Woodford, Rose Prince and Delia's Canary Catering to name but a few.
You'll be spoilt for choice. Only Lacanche artisans can build your hob top with additional integrated options. On all over one metre Lacanche range cookers you can specify integrated options such as a gas or electric chargrill, a multi- cooker - which can be used as a steamer, a boiling pan, or a Bain Marie. Other options include an electric plancha (electric griddle) induction zones or additional gas burners. These integrated options transform your hob and give you limitless options to express your culinary skills.
It's not just Cooks & Company who adore this brand of range ovens. Mr & Mrs Stubbs who bought their Lacanche oven from us in 2022, say, "We had debated investing in a Lacanche for a while and we are so glad we did. Choosing our colour was fun enough but cooking on it has been even more enjoyable. If you're thinking about purchasing a Lacanche we'd highly recommend visiting Cooks & Company, the salespeople were experts, and they answered all our questions in such detail. We drove an hour and a half to visit their showroom and it was so worth it."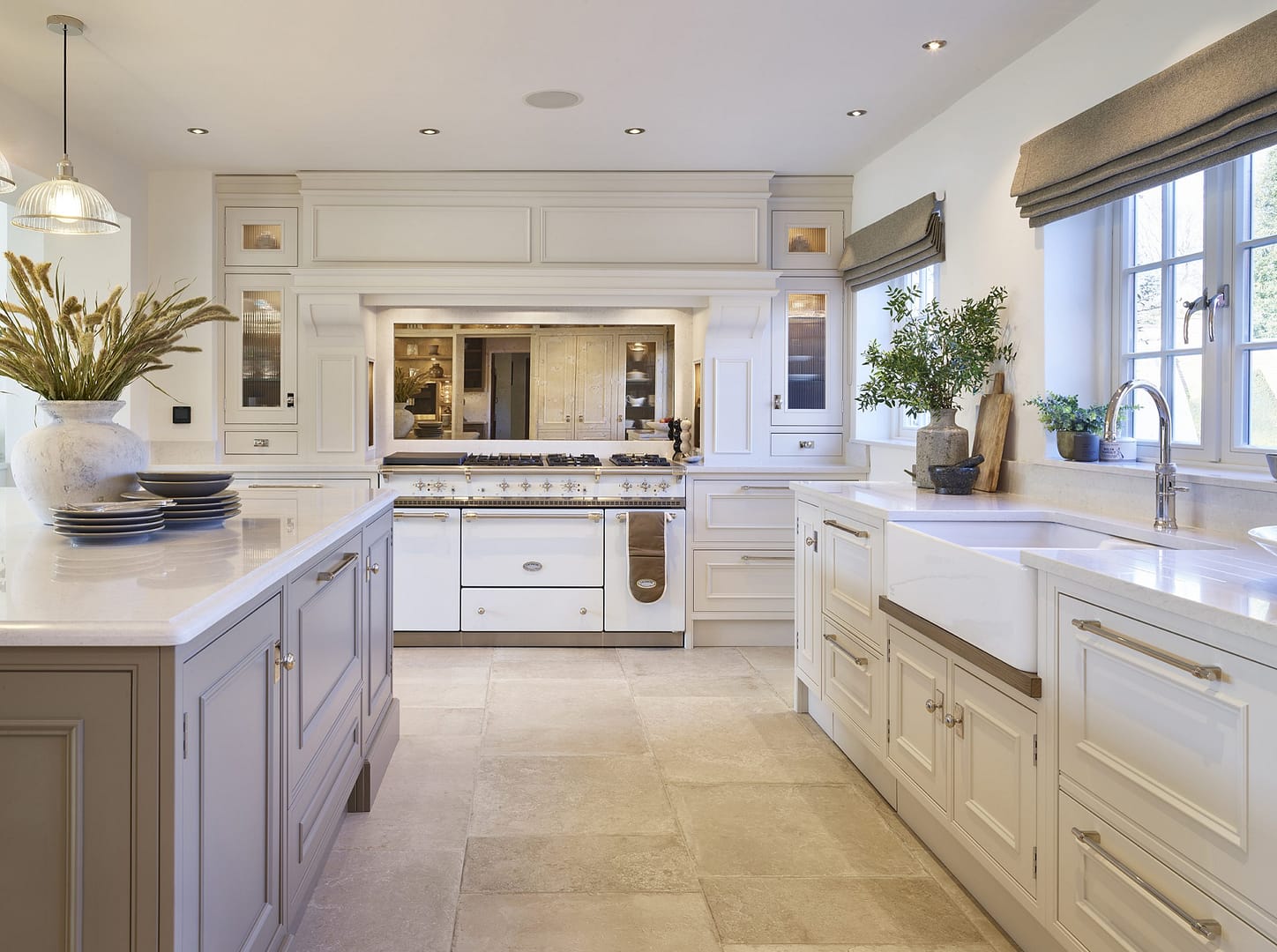 If you're investing in a luxury kitchen this year, then you'll want to choose your appliances wisely. Visit our Newark on Trent showroom and we can help you to discover Lacanche for yourself. We guarantee you'll be blown away by the superb quality and craftsmanship this brand has to offer.
.